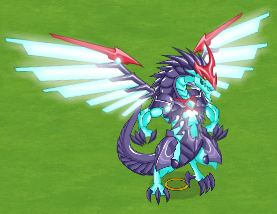 Galaxy Dragon is a promotional unit given away to anyone who has reached level 10 in Social Wars, a relative game of Social Empires. It can only be mounted by Dragon Rider III.
Health: 3100 (3300 WR)
Attack: 78 (103 WR)
Range: 9
Speed: 6
Attack Delay: 35
How To Obtain
Edit
Most people obtained Galaxy Dragon from a promotional offer in which you must reach level 10 in Social Wars and Dragon City. Galaxy Dragon and Rainbow Dragon have now been replaced with Infernal Dragon and Crystal Dragon.
You can obtain Galaxy Dragon with and without rider from the Soul Mixer.
You can get him from the Dragons Chest.
You can obtain Galaxy Dragon from the new Login Bonus.
Abilities
Edit
Galaxy Balls: Fires many spheres continuously at one enemy.
Galaxy Explosion: Creates a supernova AOE which inflicts heavy damage to nearby enemies.
Galaxy Whirlwind: Galaxy Dragon will Spin and create a vortex that damages and knocksback any enemy it touches.
Spawn Minions: Spawns a Galaxy Draggy to assist(Max three).
Galaxy Draggy
Edit
Health: 700 (All three 2100)
Attack: 36 (All Three 98)
Range: 8
Speed: 8
Attack Delay: 35
Galaxy Dragon Trivia
Edit
It has a counterpart named Rainbow Dragon which used to be obtained by reaching level 10 in Dragon City, alongside Galaxy Dragon.
Rainbow Dragon can change into 4 other Dragons but Galaxy Dragon has more Health/Attack so it is reccomended to obtain both.
Galaxy Draggy Trivia
Edit
It can be obtained in Soul Mixer or by being spawned by Galaxy Dragon.
If spawned it takes 20 seconds before another Galaxy Draggy can be spawned.
Galaxy Draggy is stronger than any other three of Rainbow Dragons Draggys