A dragon that can change temporarily into any of the four dragons: Crystal Dragon, Vulcano Dragon, Death Dragon and Electric Bahamut Dragon. As of October 10, 2012, this dragon can be obtained by completing the offer of successfully achieving level 10 in the game Dragon City.
Can be mounted only by Dragon Rider III.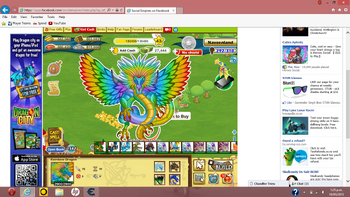 Abilities
Teleport to the place you click, however, cannot teleport past a certain range.
Transforming into powerful dragons with unique skills each. Transformation holds for few seconds, then reverts back into Rainbow Dragon. 
Spawn Draggies (only as the other dragons besides Crystal Dragon) Vulcano Draggy, Death Draggy, Electric Bahamut Draggy. There can only be three Draggies at one time, even if the draggies were from different dragons.
Tactics
Using Rainbow Dragon
Use the teleport skill to evade from enemy attack or move faster.
Use it's long range benefit to penetrate strong towers
Encounter Rainbow Dragon
Feel free to attack with your best unit combination to kill it since it has very limited ability.
Use your very best long-range support units since it has Attack Range of 9 points which could be very dangerous.
Trivia
It's counterpart is arguably the Galaxy Dragon, which requires level 10 in Social Wars to obtain. It has more strength and power but Rainbow can shift-shape+teleport.It's recomended to get both. (Now Infernal Dragon and Crystal Dragon)
After teleported, it will attack the closest enemy whithin it's range instead attacking clicked enemy unit before being teleported.
If mounted by Dragon Rider III, attacking strong towers with "Attack Range" of 12 points couldn't attack Rainbow Dragon's position with "Attack Range" of 9 points which in real the towers should attack Rainbow Dragon,
As of the new update, the Galaxy Dragon and the Rainbow Dragon are no longer obtainable by leveling up to Level 10 in Dragon City or Social Wars but still from the Soul Mixer.
When its health is down to 100 or lower, it explodes just like the Phoenix but unfortunatley dies in the process. It does no damage.
You can heal this unit by turning it into Electric Bahamut Dragon & have it use Auto-Heal. You can do this until it reaches 2300 life. After that, it's health will go down to 2300 if you use Auto-Heal above 2300 Health.
It looks almost Quetzcoatl.                                                            
It can teleport like [[Dynasty Dragon, Electric Dynasty Dragon And [[Golden Dynasty Dragon
It reflects Dragon City's Legendary Dragon, because both had rainbows.
After teleporting Rainbow Dragon will NOT attack anything until the red barrier wears off.
Sadly the new Crystal Dragon and Infernal Dragon(The ones that replaced Rainbow and Galaxy Dragon) are both weaker then any of them.
Originally Created By Founder/Admin Scuddyman (talk) 01:28, May 18, 2013 (UTC)